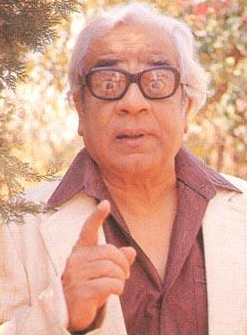 PL Deshpande
"Making Magic from the Mundane"
Born and brought up in Mumbai in a simple Goud Saraswat Brahmin (caste) household, P. L. Deshpande was a talented author, musician, singer, musicologist, stage performer, stage and film artist and director.
There are many who have mastered Marathi language, few who have made their mark in Marathi literature as true entertainers. Without mocking the mediocre, resorting to sleazy slapstick and conjuring up atrocious fantasies, P. L. consistently had his audience rolling in the aisles and readers smiling, including his critics. Like all sensitive artists, although his art was affected by the major politico-economic-social upheavals that India was going through during his lifetime, especially during the peak period of his career, it never stained his work. There are references to economic challenges, generation gaps and difficulty in coping with the changing times – all extremely poignant subjects – however all of his books, plays talk about happiness and have a very positive effect.
He himself describes the purpose of his life philosophically – a note to readers at the beginning of his book "Hasavnuk" loosely translated from Marathi -
Caught between birth and death, is the charade that we call life. So what better purpose can be there for this life then, other than to make people laugh?
Birth score – 4/5
Pride score – 5/5
Overall NB score – 9/10
Birth Score – 4/5
Pride Score – 5/5
A very impressive 9/10 Notable Brahmin Score.